About us
In October 2014, the Interdisciplinary Society for the Analysis of Anomalous Phenomena (IGAAP) emerged from the German Society for the Investigation of Anomalous Atmospheric and Radar Phenomena - MUFON-CES. Over the last forty years, this society has been working to convince the scientific community that there are occurrences in airspace that cannot be explained by conventional phenomena and should therefore be studied seriously. This was attempted with the publication of twelve comprehensive MUFON-CES Reports, each of which was written in scientific jargon, substantiating the urgent need for a scientific analysis of these phenomena. The old-established MUFON-CES Reports are now continued as IGAAP Reports.

Some members of MUFON-CES were of the opinion that the data collected so far were not yet sufficiently consolidated and should be supplemented by reports from state authorities (civil and military airspace surveillance, police). The IGAAP scientists, on the other hand, believe that the data are already sufficient to carry out scientific investigations of unknown objects based on the physical interactions observed and instrumentally recorded to date, and separated from MUFON-CES to continue their investigations as members of the newly formed society IGAAP.

The only way to investigate phenomena that are not yet understood, whose temporal and spatial occurrence is unpredictable, whose behavior contradicts all physical laws and which cannot be accessed by anyone, is the scientific method. Because the majority of scientists do not see it this way - out of ignorance of the phenomena and underestimation of the knowledge that can be gained by dealing with them - an investigation by the scientific mainstream is not being considered.

So it is left to a small minority of responsible and informed scientists to carry out private analyses with limited financial and technical resources. These scientists are internationally networked. The results of their research were already brought to the attention of US government advisors (Laurence Rockefeller) over two decades ago. In 1997, the Rockefeller Conference was held in New York. Illobrand von Ludwiger, the chairman of IGAAP - and the former long-time chairman of MUFON-CES - also took part in this conference.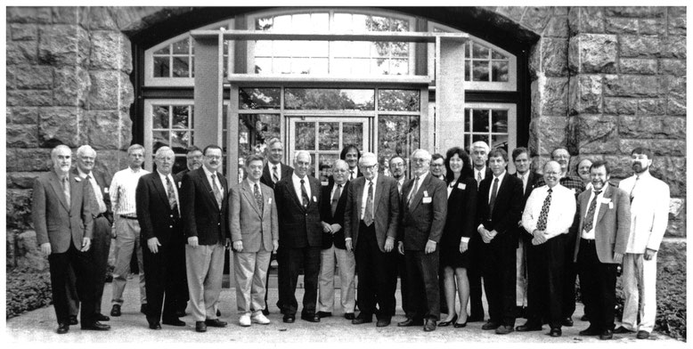 Participants of the workshop about the UFO phenomenon in September 1997 in Pocantico Hill, New York: Personen f.l.t.r.: Prof. T. Holzer, Prof. V. Eshleman, Dr. M. Rodeghier, John Schuessler, Prof. H. Melosh, Prof. J. Jopkii, Dr. H. Puthoff, Prof. D. Pritchard, Prof. P. Sturrock, Prof. C. Tolbert, Dr. F. Louange, Dr. L. Rockefeller, J.-J. Velasco, I. von Ludwiger, Dr. H. Diamont, Masha Sims, Dr. J. Vallée, Prof. B. Haisch, Dr. B. Veyret, Dr. R. Haines, Prof. M. Swords, Prof. J. Papike, Dr. G. Reitz, Prof. E. Strand
---